Each picture is unique and the result of a chain of processes. In order for you to be absolutely happy with your piece of art you will have the opportunity to make a few choices along the way.
You will be able to choose any of these full resolution images of you photo shoot you to have turned into an art work. I am happy to advise you on which images would be most suitable. I will show you different papers to choose from (smooth and textured) and you can decide on your preferred options for toning and framing. Our bespoke framing service offers floating mount with wooden frames in a choice of styles and original Farrow&Ball colours.
The standard size of the images is 28cm x 38cm (paper size) but if you have a preference for a different size or format I am more than happy to accommodate this.
Of course you will have the chance to receive the remaining images as classic photo prints or canvas.
Turn around time is usually around 3 weeks from photo shoot to final print. Additional 2 weeks will have to be allowed for framing.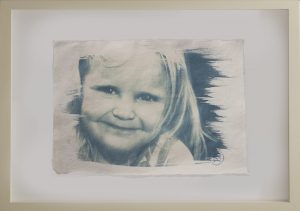 Prices
In addition to the session fee of currently £200 (until September 2017), which will give you a minimum of 20 high resolution files to choose from, a standard cyanotype print will cost
unframed  £200
framed £350
I am happy to offer a reduction of £50 for each additional cyanotype print.