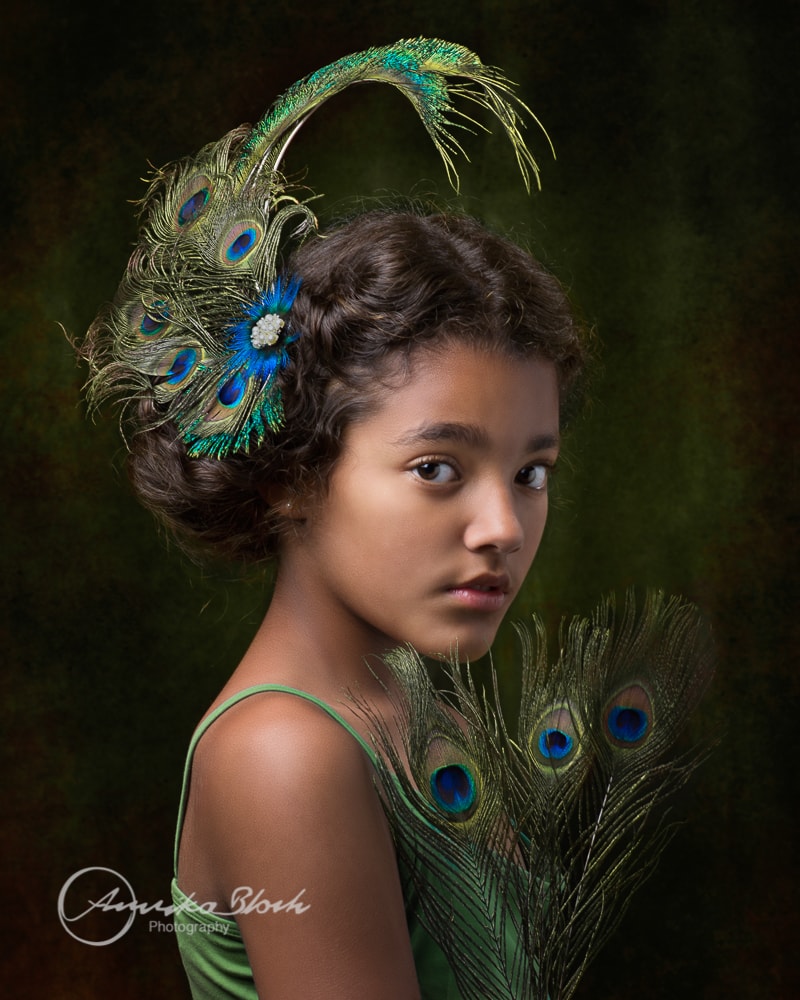 Dress up Photography in Maida Vale
I was over the moon when I had gorgeous Hellena back in my studio for some Dress up Photography in Maida Vale. Together we had worked on some portraits of her previously and this time we wanted to create something different.
To try something different I brought in various dress up articles and she was really happy to try out a variety of looks!
Peacock Feathers
I love peacock feathers and I thought the vivid green works wonderful with her skin tone. What do you think? I have since entered these images into two competitions and received a Bronze Award in the Rise International Photography Awards. In addition, I am currently in the second round round of the Master Photography Awards.
I then tried a more classical and romantic portrait with pearls in her hair.
Little Red Riding Hood
For the next image I just loved the red cloak. Hellena very eagerly took on her role as Little Red Riding Hood.
Victorian outfit
And finally, we turned her into – I'm not sure – a gentle(wo)man? A pirate? Anyway, she looked fantastic! And again, the images gained recognition through awards: An Honorable Mention in the prestigious Child Photo Competition and a Highly Commended in the MPA Monthlies.
If you think your child would love a dress up session, too, please get in touch with me. I love anything that catches our children's imagination, so bring in your princes and princesses, superheroes and superheroines and even little witches and wizards (it's not long until Halloween!).
Blog Circle
This week I am taking part in another blog circle with talented photographers from all over the world. Next up is Stacey Adams, an Albuquerque Family and Newborn Photographer, with some beautiful underwater photography of her children. In fact, I loved her post and images so much that I decided to share with you next time some of my underwater photography that I did this summer. So please follow the circle until you are back here and come back soon to see even more underwater photography!
Annika Bloch Photography offers award-winning family and child photography in Maida Vale, West London, specialising in studio photography. In addition, she offers dance photography, pet photography, head shot photography and commercial photography. Licentiateship with the MPA. Uniquely, she offers to craft your portrait as Blue Print.