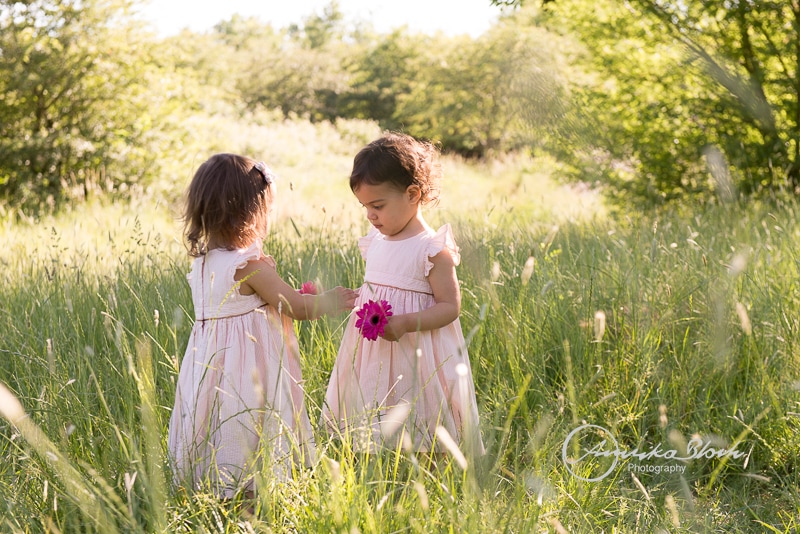 A sunny outdoor family session in West London
Covid-19 and the resulting lockdown obviously meant that I couldn't photograph families for months. Even now that the UK are relaxing the restrictions I cannot with a good conscious offer studio sessions yet. Luckily, the weather has been amazing. So I went back to what I did when I first started out as a photographer: I offered outdoor family sessions in West London again. This is much safer for everyone and a lot of fun – especially when there are children involved.
My first session back after the lockdown has been wonderful! A beautiful family with two adorable little girls, glorious sunshine and a quite corner in a park that whisks you away from the Central London hustle and bustle. What more could I ask for?
Location scouting
Location scouting was a bit of a challenge. These endless sunny days meant that the London parks were full of people enjoying the good weather. Apart from the difficulty of social distancing, this is certainly distracting for the family. In addition, it means a lot of work in editing to remove people from the background. But I found this often overlooked little park: it was perfect for an outdoor family session in West London, offering some gorgeous wild looking patches. It worked out perfectly!
Keepsake Video
During the lockdown I have taken a course on videography for photographers. And I have to say I utterly fell in love with these short emotional movies. At first I wasn't quite sure how this would work during a photo session. But this was the first video I took during a client session and I am quite pleased with the result. What do you think? I definitely have to work on how to present the videos on my website without them looking so pixelated.
Photography without frontiers
I am very grateful to this family as they donated to the charitable initiative Photography without Frontiers that I am part of. This donation is going towards NHS Charities together to support out NHS staff. I have also donated already and in addition, for every session booked through the initiative, I will donate another £5. Over 100 photographers nationwide have come together to raise funds. If you would like to donate and receive a free photography session with any participating photographer as a thank you, you can learn more on my NHS Charity page or directly at Photography without Frontiers.
See how much we have raised already!
Blog Circle
Today I am joining a blog circle with some amazing photographers again. Next up is Michele Quattrin, a Maternity Photographer in Minneapolis, who is telling us about the importance of having beautiful maternity portraits taken.
Mailing list
If you'd like to receive future blog updates with photography related tips and advice, or to be the first to hear when I run special offers or discounts, you can also join my mailing list. I only email a few times a year, I promise to never spam you and you can unsubscribe at any time.
---
Annika Bloch Photography offers award-winning family and child photography in Maida Vale, West London, specialising in studio photography. In addition, she offers dance photography, pet photography, head shot photography and commercial photography. Licentiateship with the MPA. Uniquely, she offers to craft your portrait as Blue Print.