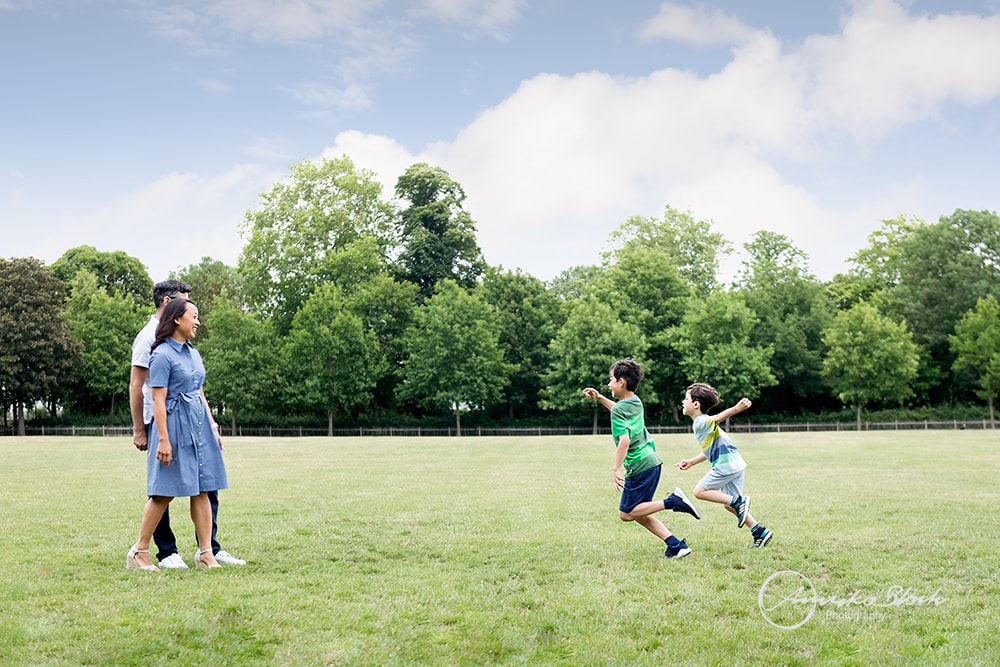 A few weeks ago I had the honour to capture this beautiful family in a photo session in Holland Park. About to leave the UK for good, they wanted to some images by which to remember their time in London. As they had spent so much quality time in Holland Park, this was the location they chose.
We met early in the park to beat the crowds – and the rain. The forecast was not great but still good enough in the morning. And we were very lucky! The weather held until just after our session when it started to rain.
Initially, we walked around to find the best light and make the most of this stunning park. In spite of the overcast sky, we managed to find some beautiful places. As the playground was still closed due to Covid, I looked for some other way the boys could show off their energy. Conveniently, the sports grounds were right there!
And to finish the session, we settled under a lush green tree to include some more "formal" family images.
Keepsake Video
In between the shoots I recorded little snippets of audio and video to create a short keepsake video for the family. I am still practising and improving. But I think they already are a delightful reminder of a time to passes just too quickly.
Are you ready to have your family photo session in Holland Park or any other of the wonderful locations in Central and West London? Get in touch and we will plan your bespoke session together.
Blog Circle
And finally, I have joined a blog circle again this month which, if you follow the links, will lead you to some amazing photographers all over the world. Next up is Jennifer Hicks, a Houston Family Photographer, who explains really well how a photographer in an urban environment can still capture those beautiful open skies in her images.
Mailing list
If you'd like to receive future blog updates with photography related tips and advice, or to be the first to hear when I run special offers or discounts, you can also join my mailing list. I only email a few times a year, I promise to never spam you and you can unsubscribe at any time.
---
Annika Bloch Photography offers award-winning family and child photography in Maida Vale, West London, specialising in studio photography. In addition, she offers dance photography, pet photography, head shot photography and commercial photography. Licentiateship with the MPA. Uniquely, she offers to craft your portrait as Blue Print.