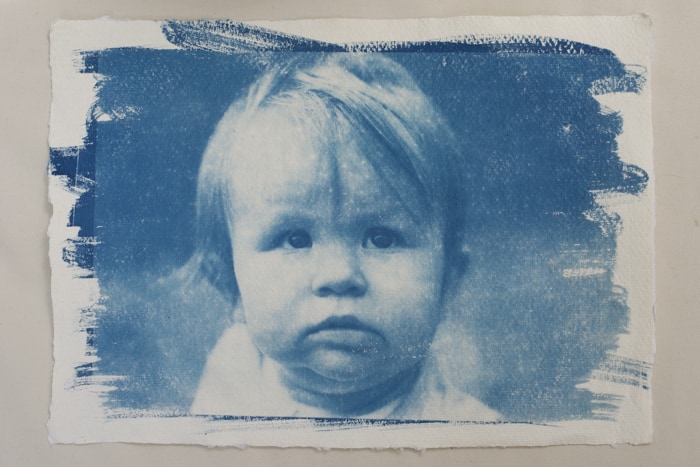 For the Luminance exhibition I had already experimented with Cyanotypes and produced a series of prints on silk. You can see them on my website. I really fell in love with this technique. It is so easy to do at home, no too toxic chemicals involved and all you need is sunlight. Admittedly, being at the mercy of the sun in London weather can be a bit frustrating at times… But then I am used to the ups and downs of research from my time in medical labs and get really excited if something new turns out well and is pointing in the right direction.
However, I tried with different negatives and papers and here is the first round of my experimentations.
I mainly experimented with two different types of paper. One is a cold pressed very rough cotton rag paper that I found at Paperchase, the other a very smooth water colour paper. Unfortunately, I don't know the make of the water colour paper as I only got a few sheets. Not surprisingly, the detail is much better in the smooth paper, but the rough paper had something to it, that I wanted to explore. Maybe an image with less detail would be more suitable?
Again, the smooth paper has more detail but maybe it is too much like a photograph. I quite like the roughness of the cotton rag, it seems a bit more edgy.
Here the exposure was very hard to get right as the eyes turned out much darker than in the original digital file. This is certainly something I have to watch out for and need to adjust in my negatives. The third image was toned in coffee. It was quite underexposed (hence very light. It is this way round in cyanotypes) and I wanted to see if toning might help add a little detail. It helped to a certain degree.
In this image I had the same problem with the eyes as before. Here I also tried selectively toning only the little girl with black tea to take the edge off the blue there but leave the sea and sky untouched.
What I take away from this is:
I love the roughness of the cotton rag paper but also the detail in the smooth paper. Maybe I can find a way to combine both.
I know I can tone and bleach cyanotypes and I have done this extensively for the portraits on silk. Maybe I can try different ways to add colour.
I have already tried some more images and fine tuned my methods and show you my results shortly. Let me know what you think!