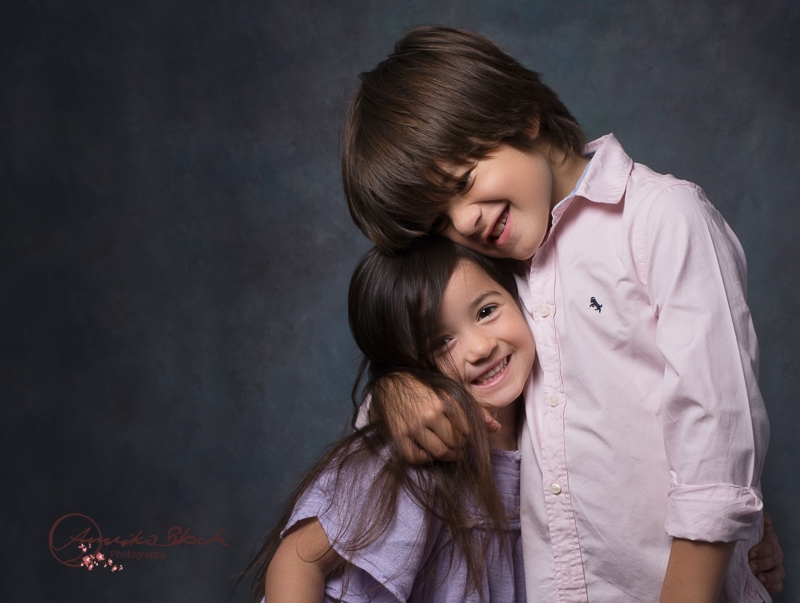 I had the pleasure to photograph these two stunning siblings in my studio. They have such amazing and strong personalities! I was lucky to catch these images of the little girl as the young lady has since cut her own bangs…much too the dismay of her mum!
She was a bit shy at first and wanted Mummy next to her for the first couple of pictures but warmed up quickly and clearly wanted her say in her outfit and hairstyle! No wonder if your mum is in the Fashion business…
Her brother was also a bit reluctant at first but when he realised that I absolutely did not want any cheesy smiles from him, he seemed relieved and was happy to be just himself. Sometimes the most difficult part is NOT to get that grin from kids.
I guess, those sibling images speak for themselves. Not long into the session those two were comfortable doing their own thing, instead of being weary of the camera.
I love to photograph the children how they are and how they feel. And in fact that was the first thing both parents told me after they had seen the pictures: that I captured their children's self, the way they know them. And that made both me and the parents happy!
Now that the colder and rainier season is slowly drawing to a close, I am looking forward to shooting more outdoors again. I have taken some lovely images on our New Year's walk along the beach and would love to offer that to my clients to. Of course, we are not really close to any beach here, but we could make it a day out? We often go to Hayling Island or the Witterings on the (warmer and drier) weekends (we love to surf and windsurf and breath fresh air) and that doesn't take too long. What do you think about beach sessions?
A fellow photographer on my blog circle doesn't even shy away from winter sessions on the beach! She has just recently posted about a Lifestyle Family Photography Session at Rumbling Kern, Northumberland and made that work really well! Have a look at her beautiful images!