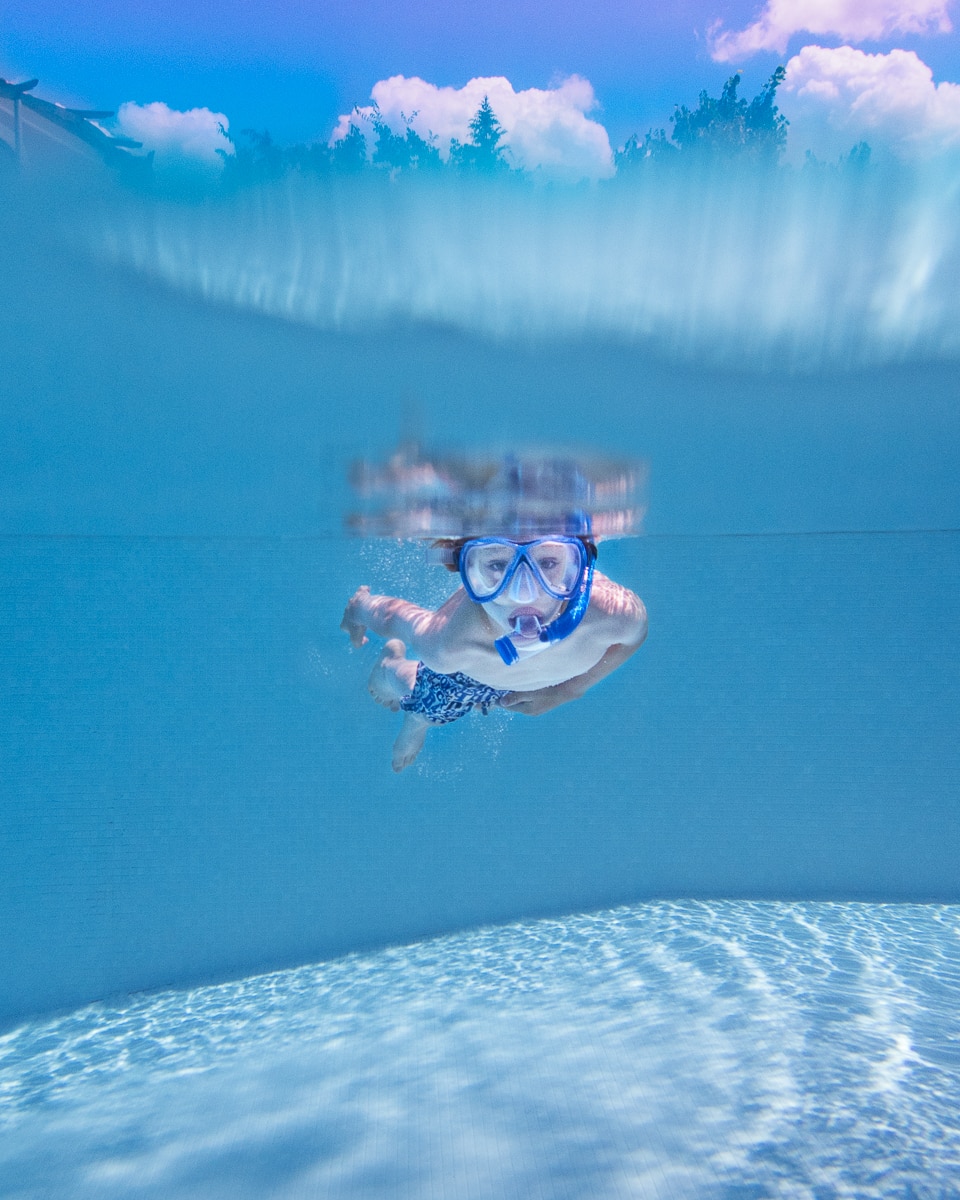 As you can probably guess I love to photograph my own kids. Unfortunately, it is easy to get into a rut, not to take the camera or to always take the same kind of images. On top of this, my offspring is not overly keen on being in front of my camera anymore. So for me, apart from enjoying a holiday anyway, it is always also a welcome opportunity to photograph the children in a different environment. The light is different, they discover and enjoy new things and are not camera conscious, I can try new angles and try to tell new stories.
In my last post I took part in a blog circle and linked to Stacey Adams, an Albuquerque Family and Newborn Photographerwho showed images of her children in their pool and inspired by this I thought I should show you some of the underwater images I took of my children this summer.
Oh, and I am taking part in another blog circle so please bear with me and follow the link at the bottom of the post to see some amazing photography of other photographer mums from all over the world.
We don't have our own pool so I have to rely on holiday homes and am restricted to holiday time but therefore the enthusiasm behind and in front of the camera is probably even bigger!
My youngest insisted on wearing a wetsuit most of the time so he would feel more like a diver!
And when he is not a diver, he is a superhero!
Some images I do like better in black and white as it really shows the contrast of the air bubbles.
If you turn the images around you can also get a very interesting effect.
But by far my favourite do try with my little camera in the pool is the split underwater/ overwater shot! It is so much fun to do (but creates a lot of outtakes!) You have to hold the camera in a way that the waterline is pretty much in the centre of your lens, so the upper half is over water and the lower half under water. It only really works if the water is fairly calm, which it hardly ever was if the kids were anywhere near the water. But a few images turned out really well. What do you think?
For this last one – really not photoshopped – it was my son's idea to dive through the picture (gently, so not to disturb the water). This image made me happy for days!
So if you are lucky and have a pool where you can photograph (sadly, no public pools in London would allow that) you should really try to take some underwater shots. It is a lot of fun for everyone!
As mentioned above I got some inspiration for today's post through our blog circle. This time I am linking again to Stacey Adams, an Albuquerque Newborn Photographer, who is giving some advice on what to wear for a Newborn photo session.