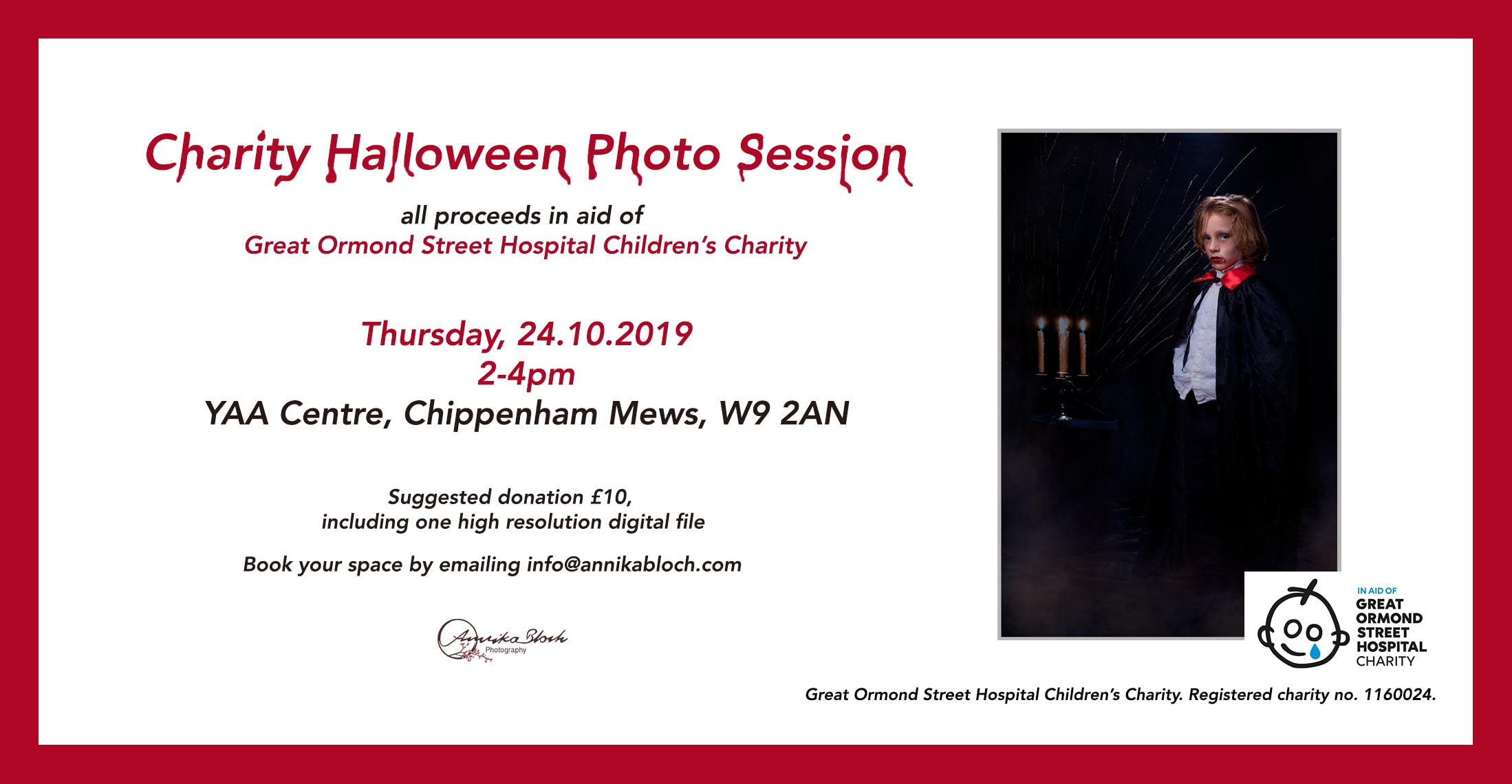 Charity Halloween Photo Session
It's almost Halloween and so many parents and carer put a lot of effort into their children's Halloween costumes. Then they wear them for a few hours and you end up with some blurry dark pictures when they are out trick or treating and in no mood to stand still for the camera.
This year I have teamed up with Carnival Village Trust. They generously let us use their premises in the Yaa Centre, Chippenham Mews, W9 2AN, to offer a professional photo session for children in their Halloween dress up. The sessions will take place between 2-4pm and we will have 10min for each child to get some spoooooky portraits. These images will be properly edited, of course, with fog and anything to make the images even more 'halloweeny'. Families will receive a high resolution digital file.
All proceeds to the Great Ormond Street Hospital Children's Charity
All proceeds of this session (the suggested donation is £10) go to the Great Ormond Street Hospital Children's Charity. I chose this charity for various, quite personal reasons.
First, I was severely ill as a teenager and needed specialised care such as the one Great Ormond Street Hospital is offering. And I know about all the little, often non-medical details that make such a difference for the young patients and their families. So I know that what GOSH Children's Charity is doing is really making a difference.
Also, before I changed my career to become a photographer I was a medical doctor. I actually worked at Great Ormond Street Hospital for a while. So I could also see 'from the other side' how much the Hospital appreciates the help in providing the best care for their patients.
And finally, as a mother I obviously hope that we will never be in the situation to see our children suffer. But I am sure, we would be grateful then if others did their little part to make our lives that little bit better by supporting the charity.
So bring your child to the Charity photography session!
So if you are free, bring your child to our Charity Halloween Photo Session! Whether they come in in a hand-made costume or shop bought outfit – all are welcome. And at the same time you are doing something for a good cause!
Please remember to drop me an email to info@annikabloch.com to book your spot!
---
Annika Bloch Photography offers award-winning family and child photography in Maida Vale, West London, specialising in studio photography. In addition, she offers dance photography, pet photography, head shot photography and commercial photography. Licentiateship with the MPA. Uniquely, she offers to craft your portrait as Blue Print.