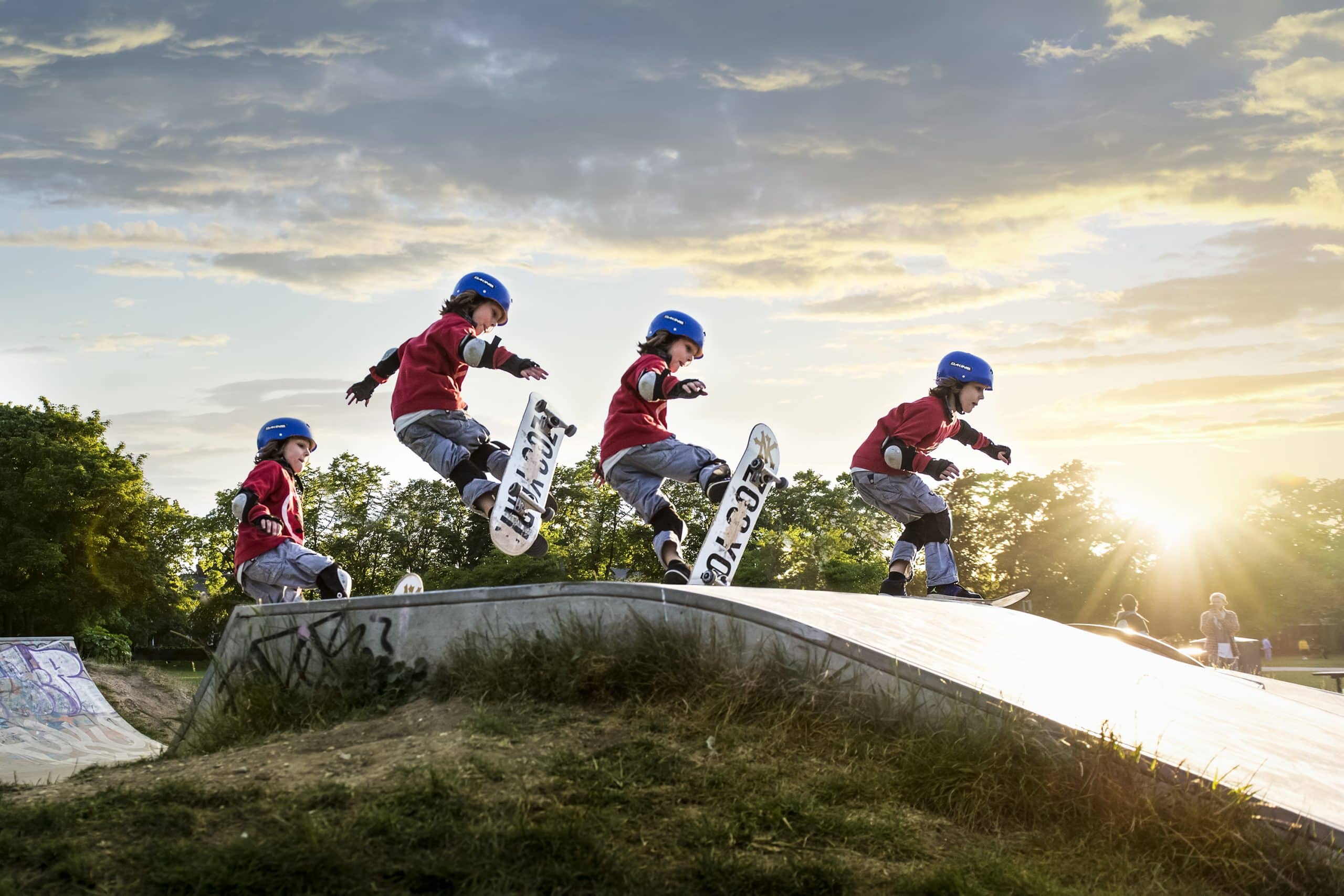 Skatepark photography in West London
After 10 weeks of having the kids at home all day we are becoming a little stir crazy. My youngest always has to move. He doesn't walk – he runs. If he doesn't run, he jumps. Or climbs. You can probably see that we had to find ways to allow him to move during lockdown. Fortunately, he is also really happy when moving around with the help of any form of wheels. Bike, scooter, skateboard, skates. You name it – he loves it. And he's fast. Luckily, one of our local skateparks was open and we allowed to go there, observing social distancing. My chance for some skatepark photography in West London.
The skatepark
Frankly, I have to admit that I am not terribly crazy about joining him and his sister in the skatepark. My husband is. And he is really good. I used to give in to my family and tried the ramps and half pipes with inline skates. But now I am a) too afraid to fall and b) too conscious about making a fool of myself. So I leave the skatepark to the younger ones (and my husband) and hide behind my camera. And that is really fun for me!
Our local skatepark is actually perfect for families AND photographers. This is because it's very open with lots of light. It's surrounded by green and it is really clean. Most people who come there are families at the moment. You actually hardly ever see the 'usual skatepark crowd' that at times can feel intimidating to young kids and their parents. And it turns out, they are indeed the ones who tidy up and keep the park clean. Goes to show how easy it is to fall prey to prejudices.
Obviously, I have a whole truckload – or actually external hard drive – full of skate park images. For today, however, I want to focus on two special approaches that are rewarding to do. For the photographer as much as the skater.
Sequence shots
Okay, I loooove sequence shots. Normally, I do them in the studio. They are perfect with kids jumping or dancing. In an older blog post I introduced a shot of my son and daughter cycling back and forth. This was not strictly a sequence shot but based on the same idea. Repeating a movement and stitching together the resulting images to combine them all in one frame. And it turns out they are perfect to do in the skate park. A passionate skater will repeat the same trick again and again anyway. What a treasure!
Look what I did with my son's image of him jumping up a ramp.
This is best to do if you use a tripod to make sure you can all images from exactly the same angle. That makes stitching them together so much easier and faster!
Videography
I promised to introduce two approaches to skate photography, apart from the usual images that freeze motion. The second one is new to me and I have been practicing a lot! To be honest, I was always intimidated by videography. However, the lockdown was the perfect opportunity to take a course for filmmaking aimed at professional photographers. Truly, this opened up a whole new world to me.
Obviously, I had to practice in the skatepark. Seeing that this is the perfect place to catch movement and use various angles. Here is just one of the resulting movies!
Another Skate movie from Annika Bloch on Vimeo.
Blog Circle
This month I am part of a blog circle again with photographers from around the world. Follow the links around until you are back here if you want to see some beautiful and inspiring work. Next up is Alison Brett, who is offering maternity Photography in St. Petersburg. Enjoy!
---
Annika Bloch Photography offers award-winning family and child photography in Maida Vale, West London, specialising in studio photography. In addition, she offers dance photography, pet photography, head shot photography and commercial photography. Licentiateship with the MPA. Uniquely, she offers to craft your portrait as Blue Print.