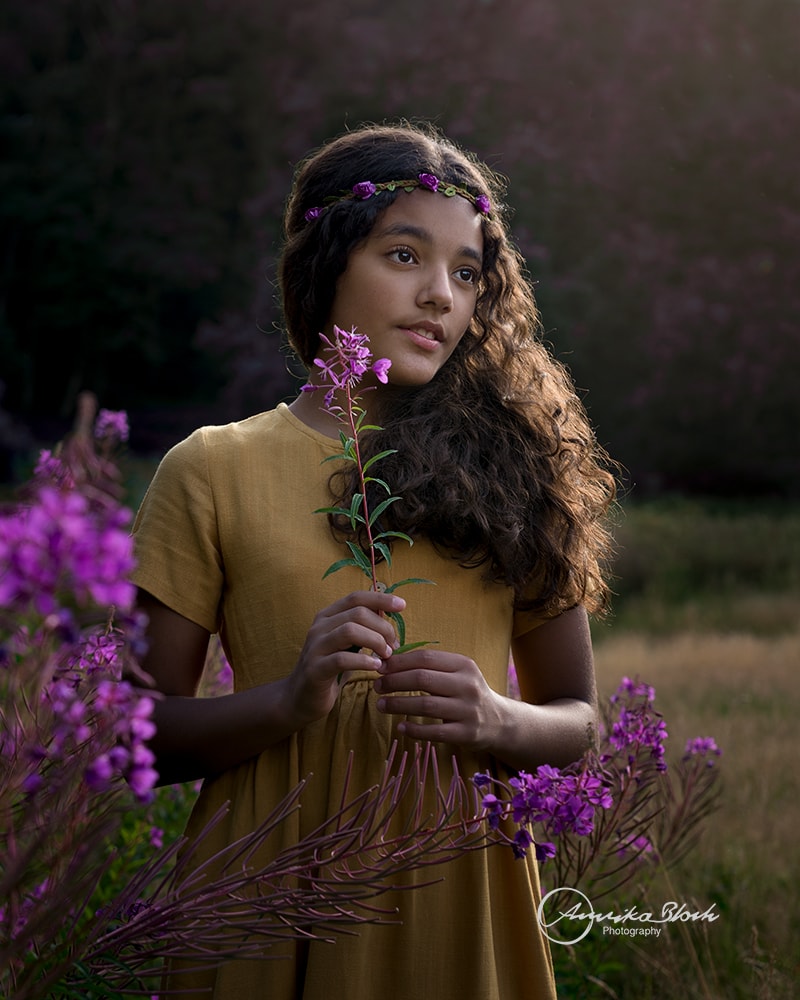 Fine art child photography – a beautiful outdoor session
On one of the recent sunny evenings I met Hellena and her family for a fine art child photography outdoor session. You might have read advertisements for fine art sessions before and wonder what the difference to a 'normal' session is. I will try to give you and idea.
What is a fine art child portrait?
There is no fixed definition what a fine art portrait exactly is. The principle idea, however, is that we create a timeless image that is visually rich and beautiful. Something you really want to hang on your wall. In a fine art child portrait you want the child's self to shine through, but in a calmer, deeper way. You want to go beyond the spontaneous laughter and goofy smiles. Fine art portraits often show the model with a more earnest, contemplative expression, but that is not necessarily a must. Also, this doesn't mean that the session is less enjoyable! It's just different. If you look at these images of Hellena, you will see what a variety of expressions we could capture within one hour! None of them were forced or acted. I carefully guided her and let her be part of the creative process, in her own way. While that is also true for classic child or family portraits, there the emphasis is much more on capturing that wide smile and cute giggle.
Does it have to be outdoors?
The session doesn't have to be held outdoors to be a fine art session. I usually offer fine art studio sessions but due to the Covid-situation we took the session outdoors – and loved it!
And what about the outfit?
In a any professional photography session the clothing and accessories have a great impact. That is particularly true for fine art child photography sessions as they are an essential part of the finished product. In this case we decided on a plain dress that worked well with the natural environment and Hellena's beautiful complexion. We added the headband in some frames to complemented the colours in the frame and instantly provided some variation without a whole outfit change.
How can I book a fine art photography session for my child?
If you would love to have some timeless and aesthetic portraits of your child or children that look stunning as wall art, just contact me via my contact form, send me an email or give me a call. We can then discuss your wishes and ideas and I will answer all the questions you might have.
Will I be able to choose some decorative wall art to display my fine art portraits?
Annika Bloch Photography offers a large choice of high quality products and wall art, from canvas as well as glossy acrylics to some pretty special painting like framed artwork. I am sure you will find something that suits any interior.
And to round it all off we convinced her mum to come into the frame as well. Such a beautiful mother-daughter-duo! I am sure dad treasures this image.
Blog Circle
Once again I am participating in a blog circle with other photographers from all over the world. Follow the links to get some inspiration and see some beautiful images until you are back here. Next up is Maria Navarro, a North Carolina Family Photographer, with some fun tips to document your pregnancy.
---
Mailing list
If you'd like to receive future blog updates with photography related tips and advice, or to be the first to hear when I run special offers or discounts, you can also join my mailing list. I only email a few times a year, I promise to never spam you and you can unsubscribe at any time.
Annika Bloch Photography offers award-winning family and child photography in Maida Vale, West London, specialising in studio photography. In addition, she offers dance photography, pet photography, head shot photography and commercial photography. Licentiateship with the MPA. Uniquely, she offers to craft your portrait as Blue Print.