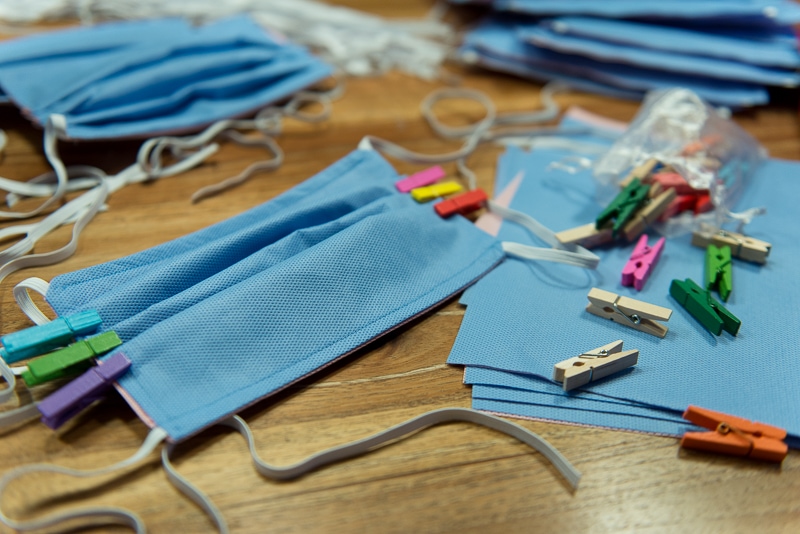 Maida Unveiled – Giving to the community
These are strange times. Obviously they are strange because of the lockdown and everything is has brought our lives. But in addition, this week I have appeared in the local ' Maida Unveiled' magazine twice – for two very different reasons.
Sewing medical face masks
You might know that I have been a doctor before I started out on my new 'photography life'. In fact, I worked in local hospitals and know only too well about the working conditions. The commitment of all the health care staff is extraordinary already in ordinary times. Let alone in the times of Covid-19!
After discussing with my family I decided to temporarily rejoin the NHS and return to work as a doctor. So far, after a few weeks, I have not been placed yet. This is partly frustrating but also – to be completely honest – a relief.
I still wanted to do my bit to support my former colleagues. As a result I joined a local group in sewing face masks for the health care staff of St Mary's Hospital in Paddington. W9w2 has been supporting various efforts to help the community and the sewing group is part of that.
If you live in the W9 or W2 area and have a sewing machine I encourage you to join the group and start sewing. It's actually quite addictive and materials will be provided.
As a result my sewing machine and I are now happily working away on pink and blue medical grade fabric instead of linen wraps for my fine art prints. Oh well, that's the times!
One added bonus is that my children are getting involved, too. Cutting the elastics, turning the masks inside out – that's definitely something they can do to help.
And above all – helping the community by sewing masks is the perfect excuse to get away from home schooling my youngest 😉
You can read all about the efforts of the W9w2 group in the newest edition of ' Maida Unveiled '. This local magazine usually comes in a beautiful print format, but due to the current situation remains digital only. It is available for free on their website.
In the Artist Section
Coincidentally, I am appearing (apart from as one of the sewing team) in the artist section of the magazine.
I find the Little Venice area absolutely beautiful. In particular the colourful barges that are reflected in the water of the canal are endlessly fascinating.
A while ago I turned some of my photographs of Little Venice into Blue Prints. One of them is featured in the magazine. The same print was also on display quite some time ago in my exhibition 'Out of the Blue'. This solo exhibition was on show at the Maida Hill Place, who also support W9w2 by donating food for the staff at St Mary's Hospital. Funny how things sometimes go in circles!
I can't believe this exhibition was more than three years ago already. It is certainly time for another exhibition. I already have one planned for autumn so keep your eyes peeled!
As I said before: go and get your copy of 'Maida Unveiled'. And if you haven't yet, also go and see Little Venice. It is well worth a visit once the lockdown is completely lifted.
Blog Circle
As in previous months I have joined a blog circle with a few other photographers again. If you follow the links you will see some beautiful and inspiring work of photographers from around the world. Next up is Alison Brett who is offering some stunning Beach Photography in Tampa Bay. I wish we lived close enough to a beach to offer beach sessions regularly. They are absolutely beautiful!
Annika Bloch Photography offers award-winning family and child photography in Maida Vale, West London, specialising in studio photography. In addition, she offers dance photography, pet photography, head shot photography and commercial photography. Licentiateship with the MPA. Uniquely, she offers to craft your portrait as Blue Print.